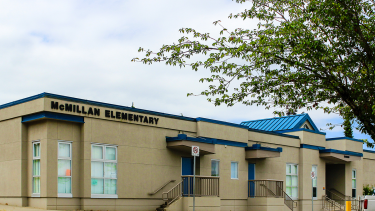 District Enhances Sites with Summer Upgrades and Facility Projects
September 6, 2023
While the summer months typically signal a break from classes, many Abbotsford School District's sites have been bustling with activity as the Information Technology and Facilities departments diligently worked on a series of transformative upgrades and projects. These initiatives exemplify the school district's unwavering strategic commitment to optimized resources and engaging opportunities. 
ITC Department's Technological Advancements 
The Information Technology Department was hard at work this summer, ensuring that students and staff are equipped with cutting-edge technology for the upcoming academic year. Among the notable achievements include: 
Transition to Microsoft Teams/Office 365: The district has successfully migrated from the Google Education platform to Microsoft Teams/Office 365. This transition involved a seamless decommissioning of Google services for teachers, setting them to a read-only state, while also removing access for students. 

Efficient Student Account Management: Automation has been implemented to streamline student account and classroom creation processes, enhancing efficiency and convenience for both educators and learners. 
Enhanced Device Deployment: The deployment of 4,400 Winbooks across schools to replace Chromebooks ensures that students have access to robust and versatile devices that can support their learning needs effectively. 

Optimized iPad Usage: The reconfiguration and reorganization of 5,000 iPads will provide students with improved device management and user-friendly experiences. 

Upgraded Computer Labs: Some existing computer labs have undergone the necessary upgrades and maintenance to ensure optimal performance for students and staff. 
Facilities Department's Remarkable Achievements 
The Facilities Department has been diligently working on various projects to enhance the physical learning environment across our schools. These projects not only ensure the safety and functionality of our facilities but also contribute to an improved atmosphere for learning and growth. The highlights include: 
Modern Boilers and Elevators: Several schools, including Rick Hansen, John Maclure, Margaret Stenerson, and Mountain, now feature new school boilers, with WA Fraser benefiting from a new elevator capital project. 

Enhanced Accessibility and Comfort: Projects such as the renovation of office spaces lost due to the elevator project at WA Fraser, plumbing retrofit and bathroom renovations at McMillan, and the creation of new cooling towers at Terry Fox contribute to an overall more accessible and comfortable environment. 

Infrastructure Upgrades: The installation of new gym pulastic floors, gym hardwood recoats, LED upgrades in gyms and parking lots, and exterior painting across multiple sites not only enhances aesthetics but also improves functionality and safety. 

Innovative Classroom Solutions: The district has strategically moved several portables across the district and implemented vertical accessible lifts to accommodate the growing student population and ensure access for all. 
Commitment to Safety: Regularly scheduled maintenance of fire life safety systems, air duct cleaning, and security system upgrades contribute to a secure and well-maintained environment. 
The Abbotsford School District is proud of the collaborative efforts of its ITC and Facilities departments and is confident that these upgrades and projects will significantly enhance the learning experience for all students and staff. We look forward to welcoming our students back to these improved facilities for the upcoming academic year.