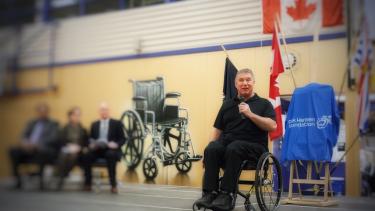 In 1985, Rick Hansen pushed his wheelchair out of Vancouver, B.C. and set out on a journey that would make history. His legendary Man In Motion World Tour spanned more than 40,000 km through 34 countries; took over two years to complete; and raised more than $26 million for spinal cord injury.
Rick's incredible achievement became a testament to the strength of the human spirit and the power of teamwork. His courage and determination inspired us to believe in the possibility of a fully accessible and inclusive society, and a cure for spinal cord injury. Following a car crash at the age of 15, Rick sustained a spinal cord injury that paralyzed him from the waist down. Forced to define a new life for himself, Rick never hesitated to challenge society's perceptions about what is possible for anyone with big dreams and the passion to see them through. Rick was the first student with a physical disability to graduate in Physical Education from the University of British Columbia. He went on to become a world-class athlete, winning 19 international wheelchair marathons, including three world championships, and competed for Canada in the 1984 Olympic Games. In 1987, Rick was appointed a Companion of the Order of Canada and has received several honorary degrees. As a positive role model dedicated to improving the world around him, Rick has a remarkable ability to engage and motivate youth. He regularly shares his message of hope, inspiration and the importance of making a positive difference in the lives of others.
Today, Rick is still a Man In Motion. As the Founder of the Rick Hansen Foundation, Rick remains committed to making communities more accessible and inclusive for people with a spinal cord injury and advancing spinal cord research, raising $245 million for spinal cord injury related programs and initiatives. Rick lives in Richmond B.C. with his wife, Amanda, and their three daughters, Emma, Alana and Rebecca. He has a passion for the outdoors and volunteers his time to support fish conservation. As Honourary Chair of the Fraser River Sturgeon Conservation Society, Rick is a strong voice for helping to restore and protect the sturgeon population.
Rick and his foundation have just commemorated the anniversary of the Man In Motion tour with the completion of the 25th Anniversary relay in May 2012. The relay engaged thousands of difference makers across 34 countries raising awareness regarding the potential of people with disabilities. The completion of this epic Tour was a testament to willpower, physical prowess and the ability to lead a seemingly impossible campaign. It was the beginning of a lifelong and selfless journey to make a positive difference in the lives of others.