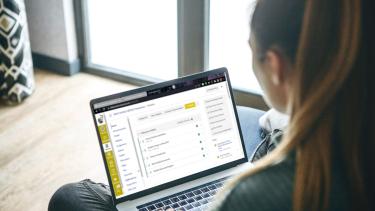 BYOD
Bring your Own Laptop Program
Rick Hansen Secondary School offers a Bring Your Own Laptop program for all students.
This program provides students with the opportunity, with parent support, to use personal laptop computers under supervision in the classroom for learning.
We believe that the use of digital technologies to improve student learning is a key part of being an innovative school that prepares students for lifelong learning.
Bring Your Own Laptop Benefits
Improved access to online resources and digital tools
Enhanced opportunities to learn appropriate digital communication and citizenship skills
Additional opportunities to create digital projects
Access to assistive technologies
Ability to collaborate during class time on digital presentations and documents
Device Recommendations
Students are asked to bring a basic laptop to school that meets the following minimum requirements:
Chromebook laptop (highly recommended)  
Windows or Mac laptop not more than 4 or 5 years old (Windows 10 operating system or newer; Mac 10.6 operating system or newer). 
Battery that is capable of holding a charge for at least 5 hours
Internet capability
Working microphone and webcam if available
Headphones
Case or sleeve for protecting the laptop when it is inside a backpack or bag to increase the lifespan of the computer
Charging power cord
The school is recommending  Chromebook laptops and has worked out special pricing with Staples in Abbotsford.
Note:
An expensive laptop (like a Microsoft Surface Pro or Macbook Air) is not needed. No purchased software is needed as the school will be using Google Apps for Education and other online platforms. 
All students are expected to take the laptop home each evening.
A small number of school district provided laptops will be available for those families facing financial hardship.  If a family is not able to provide their own laptop, please contact their school counsellor  to arrange for an alternative.
Once again, an inexpensive new or used Chromebook is more than adequate and meets all the requirements.
--------------------------------------------------------------------------------------------------------------------------
Additional Information
Student learning will benefit greatly by having easy and regular access to a laptop computer for research, inquiry, projects, and more.
If parents or students have questions in advance, please contact the school.
Students will be taught the appropriate use of technology with clear guidelines around expectations and consequences.
The district firewall, which provides website filtering, will be in place for students while using their computer at school (not at home).
Students are expected to bring their laptop to school each day fully charged.
 
Where to Purchase Your Device
Parents are welcome to purchase their device from any supplier.  The school district has arranged special pricing at the following location: