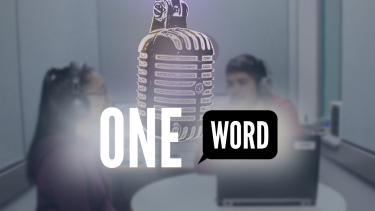 Our RHSS podcast called One Word is a passion project completely student driven. Students meet once a week to share ideas/themes that are meaningful to them and their community. Once an idea has been adopted by the whole group, smaller collaborative groups set out to research, find guests and design questions around their theme. When recording, our guest comes in with one word that exemplifies their experience at RHSS and the rest of the podcast is designed to go deeper to understand why they chose that one word. The conversations are authentic and unscripted, the graphic is created and changed each episode by a student in computer graphics, the music is done by our own RHSS rock band and the recording/editing are all done by our student computer technicians. Provide opportunities and a voice for students and they can do miraculous things.
Episode 1
Our very first episode has two RHSS School of Business students talking openly about their experiences in the program and what they have learned about themselves in the process.
Episode 2
This is Part 1 out of 2 showcasing Three School of Science 11 students. In this podcast they are sharing their pre-trip analysis and expectations of their life-learning experience to the Netherlands. Are they ready to go tomorrow? Tune in and find out. 
Episode 3
This is Part 2 of the School of Science Netherlands Trip. The One Word for this podcast is "Reality". Did the reality of the trip meet the student's expectations? Tune in and find out!
Episode 4
The One Word for this podcast is "Appreciation". Students will give us some insight on why they appreciate their teachers and how they decided to show this on Teacher Appreciation Day.