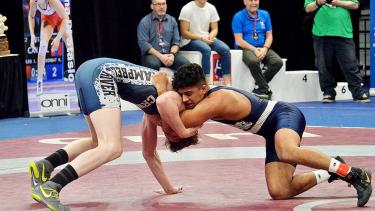 We have had a very successful wrestling program at Rick Hansen. Throughout the last 20 years the Hurricanes have had multiple wrestlers place 1st, 2nd, or 3rd at the Fraser Valley's, Provincials, and some have even competed at the National level.  Our current coaching staff is our former alumni wrestler Gurveer and Rajveer Talhan.  They have done an excellent job in recruiting a team of over 10 wrestlers this year.  We are looking forward to having our wrestlers place in high rankings at their various tournaments.  We at Rick Hansen Secondary always appreciate the extra help from our community coaches, if you are interested in helping out at any level please contact adam.verheyen@abbyschools.ca.
Thank you to our current coaches: 
Mr. Gurveer Talhan and Mr. Rajveer Talhan.