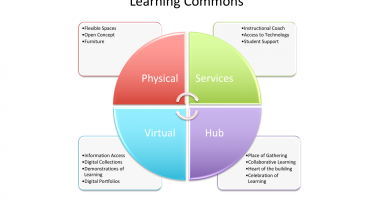 Welcome to the Rick Hansen Secondary Learning Commons
Library Hours: 8:00am – 2:45pm
The library provides current and curriculum-based information to enhance personal development and encourage the pleasure of reading and learning.
The collection includes over 13,000 books, subscriptions of 25+ magazines and 2 provincial and 1 national newspaper.
The library with an attached lab provides access to global information with a total of 36 computers.
Books Suggestions are Welcome : Include a Title & Author Name
Circulation Policy
Students & staff are responsible for the return of all books on time & in good condition
Students may check out up to 3 books for a 2-wk period
Books may be renewed by bringing the book in
Overdue books cancel any further borrowing
Students are charged the total cost of a Lost or Missing book at the end of the year
 Photocopying & Printing
Photocopying is 10¢ a page
Printing from the Internet, which includes Cut'n'Paste is 10¢ a page
Printing of student's own words are FREE
Rick Hansen's Library can offer students & staff information in the following formats
Non-Fiction:  All schools use the Dewey Decimal Classification system to organize all fact-books according to their subject.  The call # on the spine label has the DDC # followed by the 1st three letters of the author's last name.Fiction:   These books are stories & are shelved alphabetically. The spine label includes the letter F – followed by the 1st three letters of the author's last name.
Below is the complete DDC list
000-099:  Computer science, awards, library science, journalism, museums
100-199:  Paranormal phenomena, psychology, ethics
200-299:  Religion
300-399:  Economics, jobs, government, law, educations, social issues, finance, communications
400-499:  Languages and dictionaries
500-599:  Sciences, mathematics, weather, animals
600-699:  Medicine, gardening, pets, family living, cooking, careers
700-799:  Art, music, movies, television and sports
800-899:  Literature
900-999:  Geography, travel, genealogy, history
Reference:  These books provide sources of information such as encyclopaedias, atlases, dictionaries, handbooks.  These books cannot be signed out.
Links